Best Disposable Gloves for Painting-tiwilo
Painters require good hand protection gear from various paints and paint preparation chemicals. Primers, thinners, and basecoats, among many others, have chemicals that can pass through the skin and gain entry into the body. Therefore, you have to wear protective gear like gloves when mixing paint, spraying, and gun cleaning to protect yourself from these chemicals.
Not all disposable gloves offer the same level of protection. For instance, latex gloves offer little or no protection against penetration of most solvents. However, they minimize the contact with paint and reduce the clean-up time.
Additionally, most disposable gloves can degrade when exposed to various chemicals found in paints. Therefore, latex is not the best option for painting work. Vinyl gloves do not offer a snug fit, but they are relatively more resistant to turpentine and other petroleum-based solvents than latex gloves. Vinyl can be used if you're painting using latex paint but may not be so good when you're thinning oil-based paint or caulking.
On the other hand, nitrile gloves offer a better barrier against paints and organic solvents. Organic solvents refer to some of the harshest chemicals on gloves. The following are some of the best disposable gloves suitable for painting tasks.
1. Blue Nitrile Gloves, four mils, Disposable Non-Sterile Gloves
These disposable gloves are expertly manufactured using nitrile material and offer optimal protection against harsh chemicals in any painting task. Additionally, it eliminates the allergies associated with natural rubber latex. Any painter will find these gloves comfortable on the hands because they are elastic and come with a beaded cuff to offer a snug and secure fit while working. They are strong yet very thing and offer tactile sensitivity.
These disposable gloves are multi-purpose and find use in medical fields and other professional jobs. Due to their quality, they have been tested and approved to offer superior protection against chemicals and liquids.
Key Features:
4 mil thickness

Medical grade

Micro-textured on the fingertips for better grip

Ambidextrous

Latex and powder-free

Multipurpose

Offer optimal comfort

100 pieces in a box
2. MedPride Powder-Free Nitrile Exam Gloves
MedPride Powder-Free Gloves are medical-grade disposable gloves made from nitrile material and offers comfort to people with allergies to latex. It is ideal for both professionals and artists like painters.
These gloves come with textured fingertips for better grip and offer higher tactile sensitivity. They are widely used by first responders, physicians, painters, tattoo artists, and law enforcement officers, among others. These gloves also feature a beaded cuff for a comfortable fit and smooth external finish. Despite being thin, it's strong, stretchable, and durable. Additionally, each glove is puncture and tear-resistant.
The glove is ambidextrous and can be used by both men and women, lefties or righties. Besides, it can be used by anyone with sensitive skin against latex and powder.
Key Features:
Heavy-duty strength

High protection against chemicals and liquids

Puncture resistance

Powder and latex-free

Ambidextrous

100 pieces in a box
3. Defender Safety - Nitrile Examination Gloves
Defender Safety Nitrile Examination Gloves is a medical-grade disposable glove, and it's trusted by millions of people across the US. It exceeds the ASTM D6319 standard for medical applications that specify a wide range of tests, such as physical dimensions, sterility testing, powder residue, and powder limit testing, among many others. Additionally, it is 510(K) approved by FDA, indicating its high-quality product.
These disposable gloves come with textured fingertips for firm grip, especially when handling slippery objects or in wet environments, and it's ideal for painting work, among other tasks. It is ambidextrous and comes with a beaded cuff for quick and easy wearing and removal.
It is puncture and tear-resistant, making it ideal to be used in a wide range of industries, such as painting, tattoo parlors, general medical examination, cleaning, food handling, and automotive, among many others.
Key Features:
Ambidextrous

Superior protection against liquids and chemicals

Powder and latex-free

Made from quality nitrile

Beaded cuffs
4. GMG SINCE1988 Disposable Nitrile Gloves
GMG disposable gloves are strong, durable, super tensile, and puncture-resistant gloves manufactured using nitrile material. It's 4 mil nitrile gloves and tear-resistant. They are not very tight on your hand and ensure good blood circulation.
These disposable gloves are medical exam grade and make them ideal for painting because it offers a good shield against chemicals and fluids. The surface is micro-textured for better grip. GMG gloves are solvent resistant, oil resistant, abrasion resistant, and chemical resistant.
It is a multi-purpose glove, and besides using it in painting tasks, it can be used in food preparation, household cleaning, industrial work, animal care, auto repair, and gardening.
If you're working and want to use your touch screen devices, you don't have to remove them, and it works fine like you don't have gloves on your hands.
Key Features:
Powder and latex-free

4 mil

Multipurpose

Ambidextrous
5. ProCure Disposable Nitrile Gloves
ProCure nitrile gloves are premium-grade disposable gloves suitable for painting tasks and other professional use because they guard the hands. They have unmatched reliability because of the enhanced strength for tear resistance.
Using this glove type, you will avoid any allergies and discomfort because they have no latex or powder. Additionally, they come with textured fingertips to provide maximum grip on wet objects that can be slippery. As an artist, this comes in handy because paintwork can be messy when handling different paints.
ProCure is also a multipurpose glove and can be used in various settings, including science labs, warehouses, home cleaning, beauty parlors, dental offices, and many more. They also come in different sizes to fit different hand sizes ranging from extra small to extra-large.
Key Features:
Ambidextrous

Multipurpose

Medical grade

Powder and latex-free

Tear resistance

Textured fingertip

Different sizes
1st Choice Indigo is designed for light-duty and to be used for a short duration, making it one of the ideal glove types for painting work. The glove is made from nitrile material of 3 mil thickness, which is light and provides enough shield from chemicals and other liquids. It is suitable for non-sterile medical work, household cleaning, food service, painting tasks, law enforcers, and much more.
It features a textured surface for better grip. Additionally, it is manufactured to offer higher tactical sensitivity, allowing users to perform precise and delicate tasks such as a non-sterile medical exam. It comes in different sizes, from small to extra-large, and each box contains 100 gloves.
Key Features:
Confirms to the hand contour

Multipurpose

Textured fingertips and micro-roughened surface

Powder and latex-free

3 mil thickness
Why Gloves Are Needed in Painting Work
Work Suitable disposable gloves protect your hands against solvents and isocyanates when mixing paints, spraying paints, and cleaning painting equipment. These chemicals can burn, cause allergy, or irritate when they touch your skin. Therefore, painters need chemical-resistant gloves. Without gloves, these harmful chemicals can pass through your skin and cause harm to other organs in the body in the same way if you inhaled them.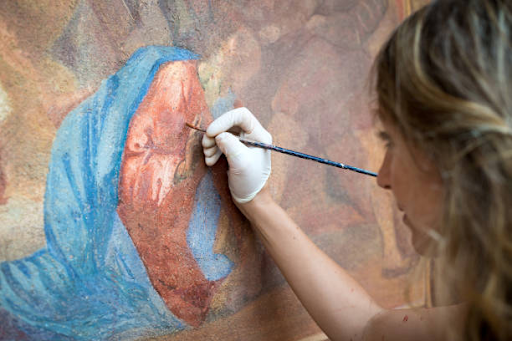 Declaración: todos los recursos de artículos de este sitio web, a menos que se indique o marque lo contrario, son recursos web recogidos. Si el contenido de este sitio web viola los derechos e intereses legítimos del autor original, por favor póngase en contacto con este sitio web para su eliminación.