KTM resurrect the 790 Adventure for 2023 to be built in China by partners CFMoto
KTM are raising their dual purpose 790 Adventure from the dead in 2023, promising new styling and updated tech goodies – plus subtle engine revisions to help it meet the latest emissions standards.
First revealed in 2018, the 790 disappeared from the Austrian range at the end of 2020 to make way for the more powerful 890 Adventure. This bike will also remain in the line-up for 2023 with similar new styling and technological tweaks.
The 790 will return in April 2023 to bridge the gap between the 890 and the 44bhp single-cylinder 390 Adventure – offering A2 licence holders a larger, restrictable option. More significantly, it will also be built in China by KTM's partners CFMoto, with KTM staff on the factory floors to ensure quality is maintained.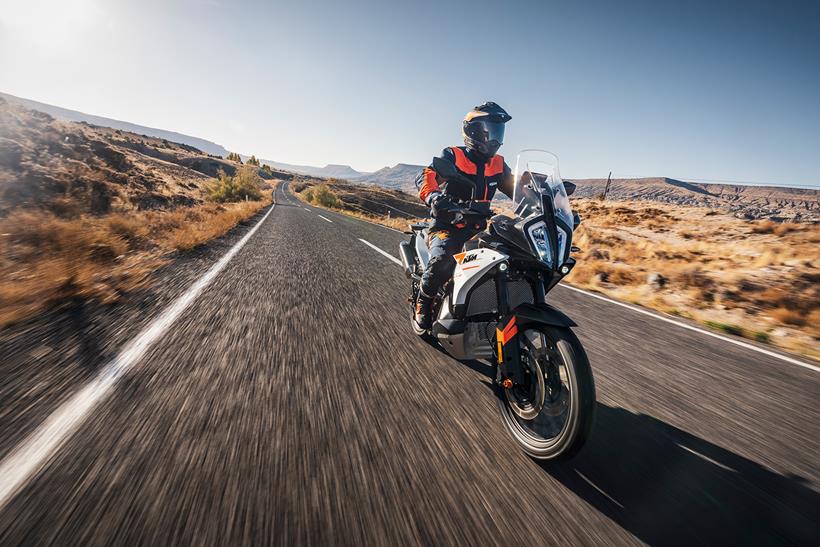 "Part of our globalization strategy is to expand our motorcycle production to different parts in the world as the facility in Mattighofen (KTM's HQ) is at maximum capacity," a KTM spokesperson said. "So, with strategic partners like CFMoto we can increase our production volumes. Because the designing and development is still done in Austria we are still in full control of quality."
Although being put together by the Hangzhou firm, the changes to the 790 were first penned in Austria. Many of the most significant of these can be found in the engine and there's now also 20% more rotating mass – said to aid cornering stability without compromising agility.
Green fingers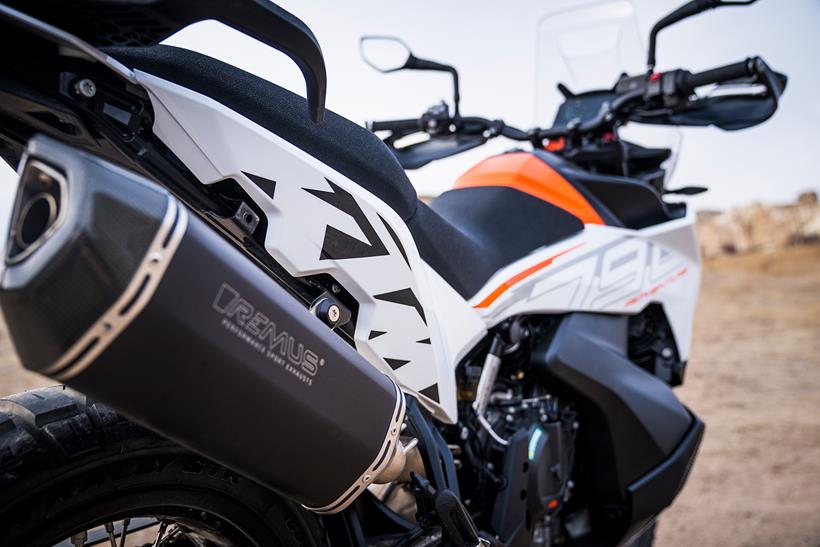 Helping to meet Euro5 are updated throttle bodies, which produce a greener, more efficient throttle connection. This is further aided by a new, raised exhaust system with a fresh catalytic converter and pre-muffler.
But that's not all, the ignition system has also had a tweak, which should allow the bike to deliver better performance on low octane fuel and service intervals remain at an impressive 9320 miles (15,000km). Expect a new slipper clutch, with fresh friction plates, and a freer breathing air box to boot.
New clothes
Housed in the chassis as a stressed member, the uprated motor is partially shrouded by fresh bodywork – including a new front mask, with broader shoulders to partially cover the front forks and likely provide greater wind protection for the rider.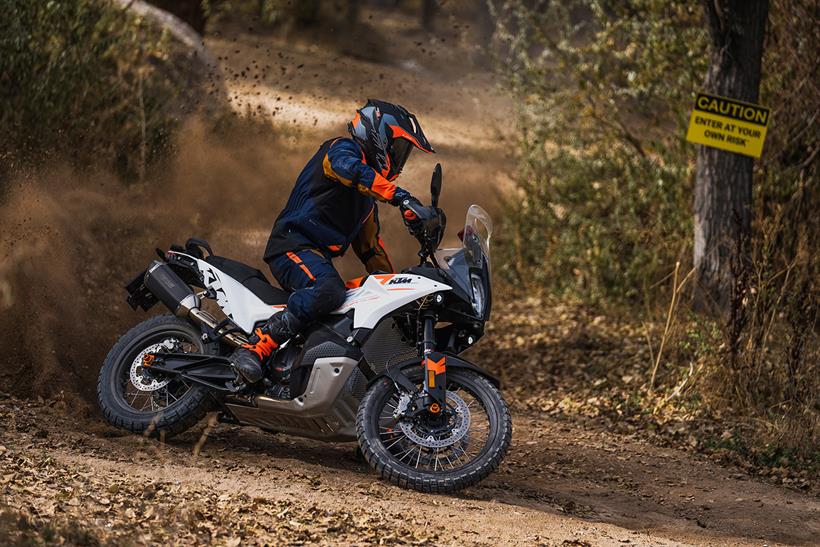 These forks are the latest 43mm WP Apex units, which can be adjusted for preload and offer 200mm of travel for navigating undulating ruts and bumps. The rear shock produces the same degree of travel.
This front section has also been strengthened to carry more GPS systems when needed and helps shroud the revised five-inch TFT dash, with the upper styling of the 20-litre fuel tank also modified to give a more complete front-end look.
Helping keep the bike upright is a raft of new electronic aids, thanks to a new IMU (Inertia Measurement Unit) also found on the larger 890 Adventure and full fat 1290 Super Adventure range.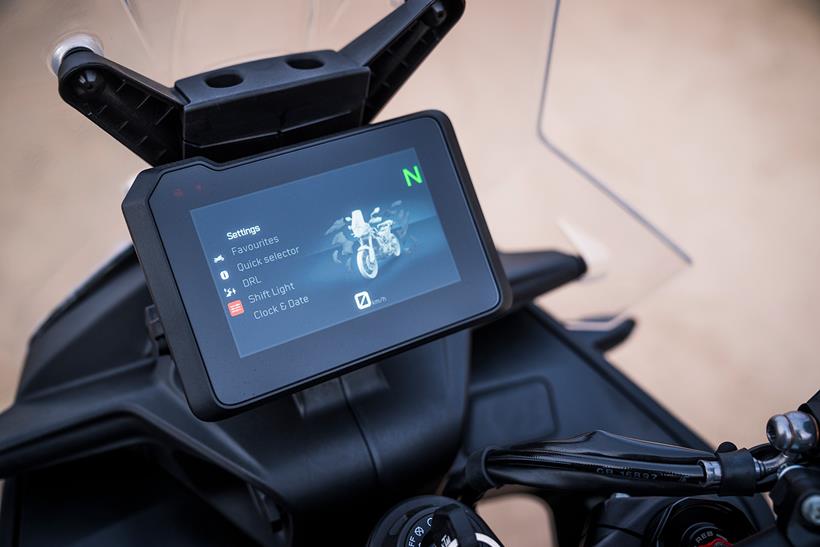 This allows for the latest in lean-sensitive traction control and ABS, with the latter also automatically changing to reflect your chosen riding mode. Much like many other KTMs, there's also a new 'Demo' mode that unlocks all of the electronic optional extras for the first 1500 kilometres before you have to put your hand in your pocket for the ones you like best.
Battle of the twins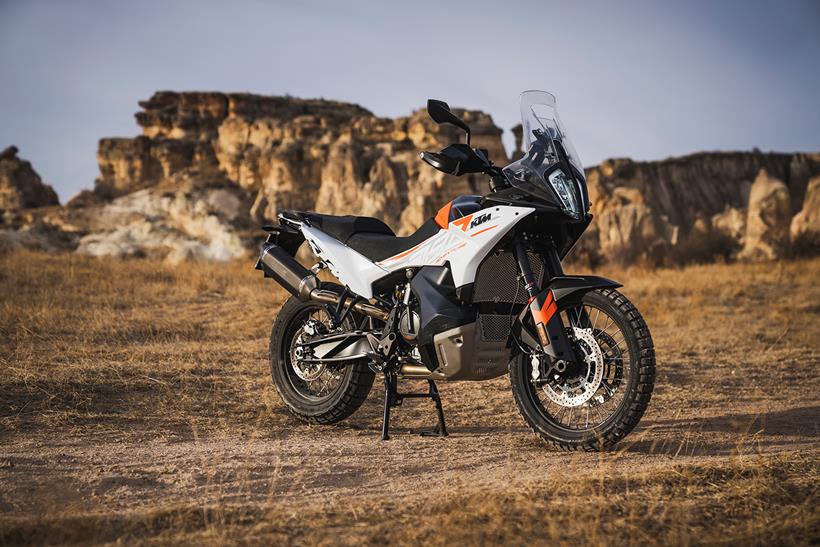 The returning 790's performance attributes put it squarely in the fight for mid-size adventure supremacy. Speaking to journalists on the recent launch of the larger 890 Adventure, off-road Global Marketing Manager, Giacomo Zappoli said: "Right now, we are at the very top of this middle-sized travel segment with the 890, with a lot of competitors.
"But, at the bottom side of it, there are also other competitors. This is where this 790 will actually be trying to tackle. Thanks to the price and the friendliness of the bike itself. We are going to have probably a lot of youngsters trying to hop on this kind of bike."
Rivals will include the 90.5bhp Honda XL750 Transalp and 83.1bhp Suzuki V-Strom 800DE, which were both revealed at November's Eicma trade show in Milan – both also using parallel twins for propulsion.
Declaración: todos los recursos de artículos de este sitio web, a menos que se indique o marque lo contrario, son recursos web recogidos. Si el contenido de este sitio web viola los derechos e intereses legítimos del autor original, por favor póngase en contacto con este sitio web para su eliminación.