Experts from Perm University of Technology of Russia Invented Ultralight Electric Motorcycle
2022-12-01
Fecha de publicación: Moto
105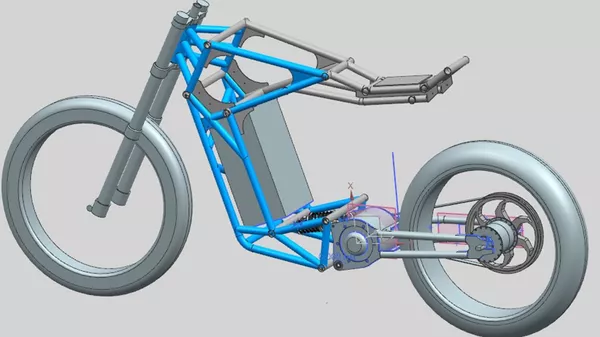 Experts from Perm National University of Science and Technology of Russia have developed a prototype of ultra light and environment-friendly electric motorcycle.
The special feature of this electric vehicle is that it will be the first electric vehicle equipped with super capacitors in Russia and even in the world. The device can make electric vehicles free from power supply restrictions, and only a few large electric vehicle manufacturers use it at present.
Project leader Ruslan Nurgarin, Chief Engineer of the Teaching and Research Section of "Innovative Machinery Manufacturing Technology" of Perm University of Technology, said: "The market size of electric motorcycles in China is 90 million to 540 million rubles per year. It is very troublesome to buy gasoline motorcycles because they need regular maintenance, a place to store them, and the weight is more than 110 kg. We propose to produce portable electric motorcycles, which are not only easy to use, but also do not pollute the environment, and do not need to replace spark plugs, filter elements and engine oil."
The size of the new electric vehicle is no larger than that of an adult bicycle, and there is no smell of fuel and engine oil. Therefore, it can be put in the house and avoid being stolen.
According to the inventor project, electric motorcycles that can compete with similar products in the world in design and technical performance will be produced in Perm. It is estimated that the new electric vehicle "Vazar Pulsus 2020" weighs only 60-70 kg. The user only needs to replace the brake pads every 1.5km. The motor power of the electric vehicle is 8-12 kilowatts, the maximum speed is 120 kilometers per hour, and the endurance is 80 kilometers. The frame weighs only 26 kg, but can load up to 1.1 tons at most, while maintaining the bending of the elastic zone. Manufacturers have expressed interest in this electric vehicle.
The inventor said: "The use of super capacitors can increase the maximum range of a single charge by 20-30%, and improve the battery life by 10-15%. At present, only a few large electric vehicle manufacturers produce electric motorcycles with such performance."
The expert team of Perm University of Technology has been engaged in the design and development of electric vehicles for 6 years. Since 2014, they have successfully sold five electric bicycles and electric motorcycles, namely Vazar ebike 2014, Vazar Pulsus 2015, Vazar Akuma 2016, Vazar Dux 2018 and Vazar Akuma 2019, with a total sales of about 3 million rubles.
Declaración: todos los recursos de artículos de este sitio web, a menos que se indique o marque lo contrario, son recursos web recogidos. Si el contenido de este sitio web viola los derechos e intereses legítimos del autor original, por favor póngase en contacto con este sitio web para su eliminación.